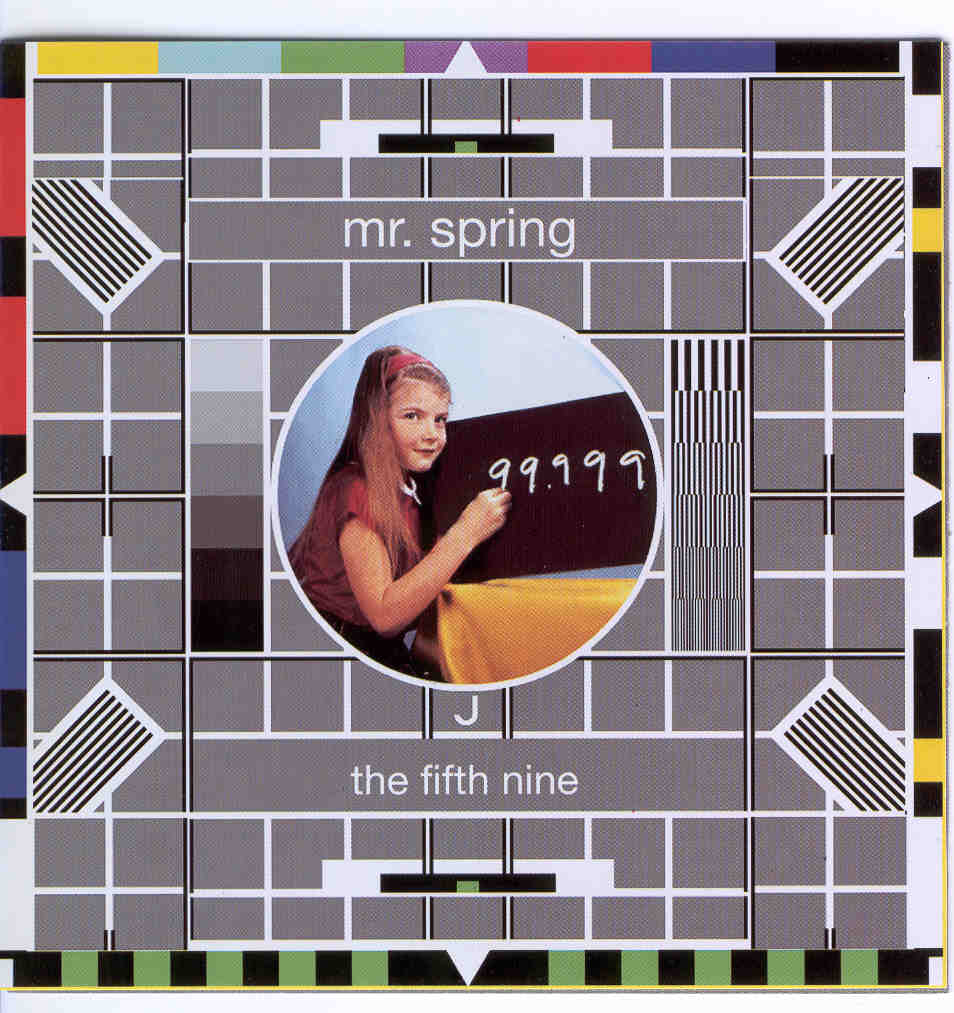 Aha!! I finally did an album!! THE FIFTH NINE... It`s Already released in Spain on MOSTIKO (a Roadrunner Label) and is soon to be released in Belguim (Roadrunner again!) and Ireland/UK (Vital).. I Suppose i should have some Big Spoof about how You should go out now and buy it.. But er.. i don`t.. so instead here`s a review from UK magazine M8 to Start with, then i`ll do a Commentary for You Of what`s on the Album so you can get a Grip on it Fast & Painlessly!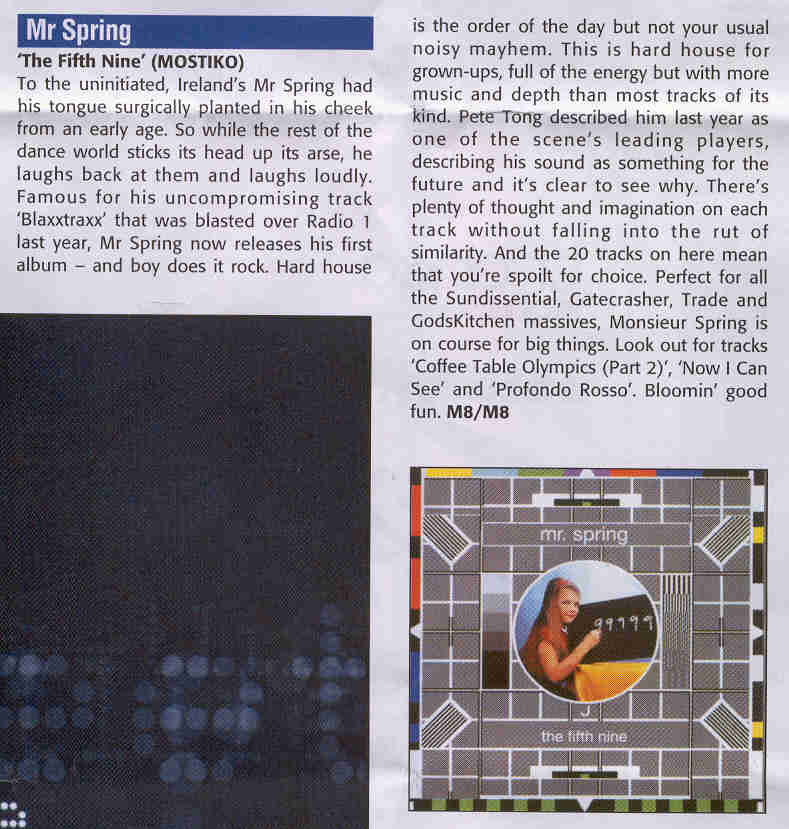 Cool!! The copy reviewed was one of the First Batch Pressed in Spain so the Tracklisting has changed a bit since then,let`s just say a mixup occoured in the mastering stage and some stuff was included that wasn`t intended.. those of you lucky enough to get one of the first batch will know EXACTLY what i mean.. ;) Here`s the Ireland/UK Tracklisting since it`s to be adopted for any territorys to follow.. Mmmm Double CD..
CD1 :
COFFEE TABLE OLYMPICS PART 2 - Previously on Spring Records and Mostiko`s Premature Ejaculation EP this is the only part of the Ledgendary 4-part opus miniseries THE COFFEE TABLE OLYMPICS PARTS 1-4 to be released publicly. What are the C.T.O.s? Well.. what do you do on the coffeetable wherever you end up after a club? We liked to do it properly.. events were organised and teams competed furiously untill public transport began running at 6.45am again and everyone could go home in 1 piece.. If enough people ask i may put MP3s of parts 1,3 and 4 up someday.. A nice opener for the album as it`s a wolf in sheep`s shades and really will melt your brain! Synthetic orchestras on steroids.
GIVE ME IMMORTALITY OR GIVE ME DEATH - NEW! You really need to study the Firesign Theatre to get your head around this.. 3/4 FM honk,( yes _that_ honk, the Mr.Spring Honk Actually, as robbed by fuc*ing everyone since SPACE MOUNTAIN came out first as the b-side of LETS SKATE but hey, i don`t mind and neither does DJ DUBS who made it in SOUNDFORGE!) and some really ropey slurm from the very nutty Kawai K5000 Additive synth.. An aquaitence claimed it worked for them on several levels.. go try!
VOYAGER 2.3 - NEW! The latest In the VOYAGER saga.. done after listening to FREEK FM in london for a sunday morning to 2Step etc.. hense the skinny-as-me beats! I still pull off a 20 to 3200 BPM rush in the break coz it`s a VOYAGER track innit? Guest Vocals came from A HippyChick and a BERZERK arcade game board. I wish MC Viper or KRS1 would rap on this and make it agressive!!!
NOW I CAN SEE - NEW! Track i made with CRAIG DIMECH a X-Rez at PEACH and dude in IDJ records.. We both were still feeling the after effects of a horrible weekend gigging,one we`d rather forget i think,and this sorta came about.. this isn`t the version Craig took home but one i did later that week which included the Minimoog Rising & Falling in the mid section coz i felt it needed it.. Do love that large-ass we put on it and that "Oi!" Swing..
LETS SKATE - Previously on DT Records and Later with mixes on Southeast this is the "mix that never was" AKA the "Hard Metals" mix.. The Original appears on Spanish copies of The Album. Have You seen BOOGIE NIGHTS? Know who ROLLARGIRL is? Yeah, well.. here we go..
DEEP RED - Previously on Spring records only as the Flip of PROFONDO ROSSO (on blue vinyl). Another of the "Special" tunes for me! This tune just flowed out of my fingers and wrote itself.. God i love my VOYETRA 8 and this is LOTS of V8!
MR SPRING SINGS THE BLUES - NEW! The result of a night surfing the Sky in C-Band and going to work the next day.. I do like the way Trad Blues has so much more Energy when it`s one of those "My baby left me and took my Car.. And i`m blind now and wnat to die.." type tunes! Just like the vibe in this one.. and i DO sing in it too!! No shit!! Hey! Stop laughing! I`m serious! i do!!
STAB! - Previously on Spring recordings - Called STAB cos that`s all it is. A Stab. On the upbeat, inbetween the kickdrums as simple as you like. But it`s done the way i like to do it. Now Wreck the gaff!
ALONE AT LAST... - Previously as Flip of STAB! on Spring Records - Sonique sang on this on her SERIOUS SOUND OF SONIQUE CD and so earned her place in Bootleg Heaven with me! Cool! Er.. i think.. Thing is (and you`ll find this hard to believe) i had NOTHING to do with the bootleg, i don`t even own a copy of it! I wonder if she has herad it? God. Anyone out there got it? any good? email me!! Hmm.. well here is the Original track, No sonique voal (unfortunatly).
CD2:
TRUST ME...(I`M CAPTAIN SUPERMARKET) - NEW! only ever a secret weapon for the few people i gave it to on CDR.. a very nice random slice and some obligitary trainspotter fuel from a classic flick! Several horror references at work here,only subscribers to VIDEO WATCHDOG or THE DARK SIDE will get them all, but hey it grinds along most well and has a childish riff after the break that is one of those riffs we all have inside us but can`t seem to get out properly!
NOT SO FAST - NEW! played a slate of this into a smooth disk over last winter.. The first collaboration between me and John Power in Meddlin` kids mode.. Do like it, a nice soft Devilfish lead riff with a glorious hard piano from the Yamaha DX7 sounding all so rubbery!
BLAXXTRAXX 1 - Previously on Vinyl backed with Blaxxtraxx 2, distributed by Mo`s Music Machine for it`s wonderfull 1000 copies life.. Remember playing it at THE CROSS in london at a SERIOUS night.. probably why they never asked me back! It`s a pure Cut-Up Tune, Lot`s of Tiny slices of Blaxploitation Stuff and a 909.. Shit it`s good to Drive to..
MMMMMMMM.... DRUGZ! - NEW! Featuring the 2001 appearence of the Anti-Psychologist rant in a certain grot classic flik from the past! Take note - the actual rant is referring to the use of Psychoactive drugs to treat mental illness, and how much of a cop out it is.. "How will you help them (the patients) by Giving them drugs, taking their lives away?" and has fu*k-all to do with recreational drugs! Inspired by the Excellent (but sadly non-kicking) "Prozac" by DJ Tomcraft..
SYNC OR SWIM - Previously on "The premature Ejaculation EP" on mostiko, this is aWall of synths complete with "Oooops!" bit in the break.. Yes i admit i`m into my breaks, this one is perticularly perplexing!! Loads of Fenix synth in this one.. in fact it`s a real femix-bender.. Gotta love that fat Dutch monster!
SOUND OF THE GARDAI - NEW! AKA "sound of the police", a real "we mean business" tune.. hehehe! My poor emulator nearly had a heart-attack doing dis.. imagine pebbledashing a crowd with fragments of an angry poet and you are there.. Special thanks to GRANNY and KRIS PARKER on this one..
SQUEEZE YOU - NEW! Another one i tested on slate last year and seemed to get away with.. Very nasty union of FM synths and Kurtzweil Tones with snaz vocals.. I suppose it`s as near to a love song as i`l get!!
PROFONDO ROSSO - Previously on Vinyl on Spring Recordings & Y2K.. the one Pete Tong mistakingly called "blaxxtraxx 3" when he said i was the next big thing whever it was he said it.. er.. in Mixmag that time.. Nice one!! Serious Homage to Dario Argento with 100% Live Percussion (50% Quantised to smoothe the ruff bits i will admit) and that WONDERFULL bit from the trailer of "Profondo rosso".. "My nightmares are bathed in red.." I`m asked what the lead stab is alot.. it`s a minimoog! And the Fizzy riff is a k2000 (you can hear the stepping filter) and the honk in the break is the Roland 100m, and no, i could NEVER recreate any of the patches again..
SUSPIRIA 2 - Previously on Spring Records, Pink Vinyl, 1000 Copies.. One of My favorite things i`ve done ever.. I just love the film (Deep Red) and it`s soundtrack.. The Fenix on lead here with help from the OST of the film and The Octave Cat.. I just thought this would blow everyone`s mind.. and it does on the floor.. by god i`ve seen some mallets thrown to this!! I can`t stress how much i hate my work a few months after i`ve finished it, i`m wierd like that i suppose, but this track remains one i like to listen to and dance to too..
MAKING THE FIFTHNINE: "GEARLUST"
Instruments: Roland SH2,SH7,TB303*,MC202,TR909,S750. Octave-Plateau Voyetra8,CatSRM2*. Oberhiem Matrix1000,Matrix12,OB12. Elektron Sidstation. Kurzweil K2000. Fenix Modular Synthesizer. Doepfer Modular Synthesizer. Analogue Systems Modular Synthesizer. Kawai K5000r. Yamaha DX7,DX100,DSPfactory. JSH "JaffaCake" Drumsynth. Studio Electronics SE1. EMU Emulator IV. Blacet Darkstar Chaos Module. JoMoX 09 Drums. Casio RZ1 Drums. Granny Granular Synthesizer. Stomper Drum Synthesizer. Orgon Energiser*. (* indicates customised unit..)
Master Sequencer: Voyetra SequencerPlusGold Ver4.11 on an Olympic 486/50 PC Running on MSDOS 6.1. Evergreen 586 CPU overclocked to 150Mhz (to improve timing) with a Voyetra v24s Midi Interface & a Voyetra V22m Interface running in paralell to deliver MTC & SMPTE Sync With 6 Individual MIDI Ports Out and 2 Individual Ins. MPU401 Compatability on 1 of the V22m's for Various Picky Editors i Never Use..
Sub Sequencers: Roland TB303 & RealWorldInterfaces' Devilfish, Roland MC202, Analogue Solutions Concussor 8-Step Gate Sequencer x 2 & Concussor 8-step Voltage Sequencer x 2.
Convertors:Groove Electronics MCV 2 Channel Midi-CV +DINSYNC , Design Labs Prologue+ Midi-CV + DINSYNC, Novation BSR Midi-CV & CV-Midi x2.
Mixers:Yamaha Promix01, Yamaha 02r + 2 analogue i/o boards.
Master Processing Chain By DBX, Aphex, Behringer and JoeMeek.
Outboard/Effects By Lovetone, Lexicon, Yamaha, Roland, REDsound, Dean Markay, Eventide, EMS, ART and MAM.
Mastered to BASF and Quantagy stock on a Fostex D5 and a Nagra-d.
Lovingly Edited on an AKAI dr4d.
Mr.Spring / The Fifth Nine - 18-Track Double CD
Released in Spain/Andorra on Mostiko (A Roadrunner Label) Cat# mo0152 Released in Ireland/UK on Spring Recordings (Vital Distribution) Cat# slicd10601 Check Your Local Importer for Blank Expressions and possible Hookage ;) DVD Version Due November 2001 with Dolby Digital 4.0 Features! (maybe)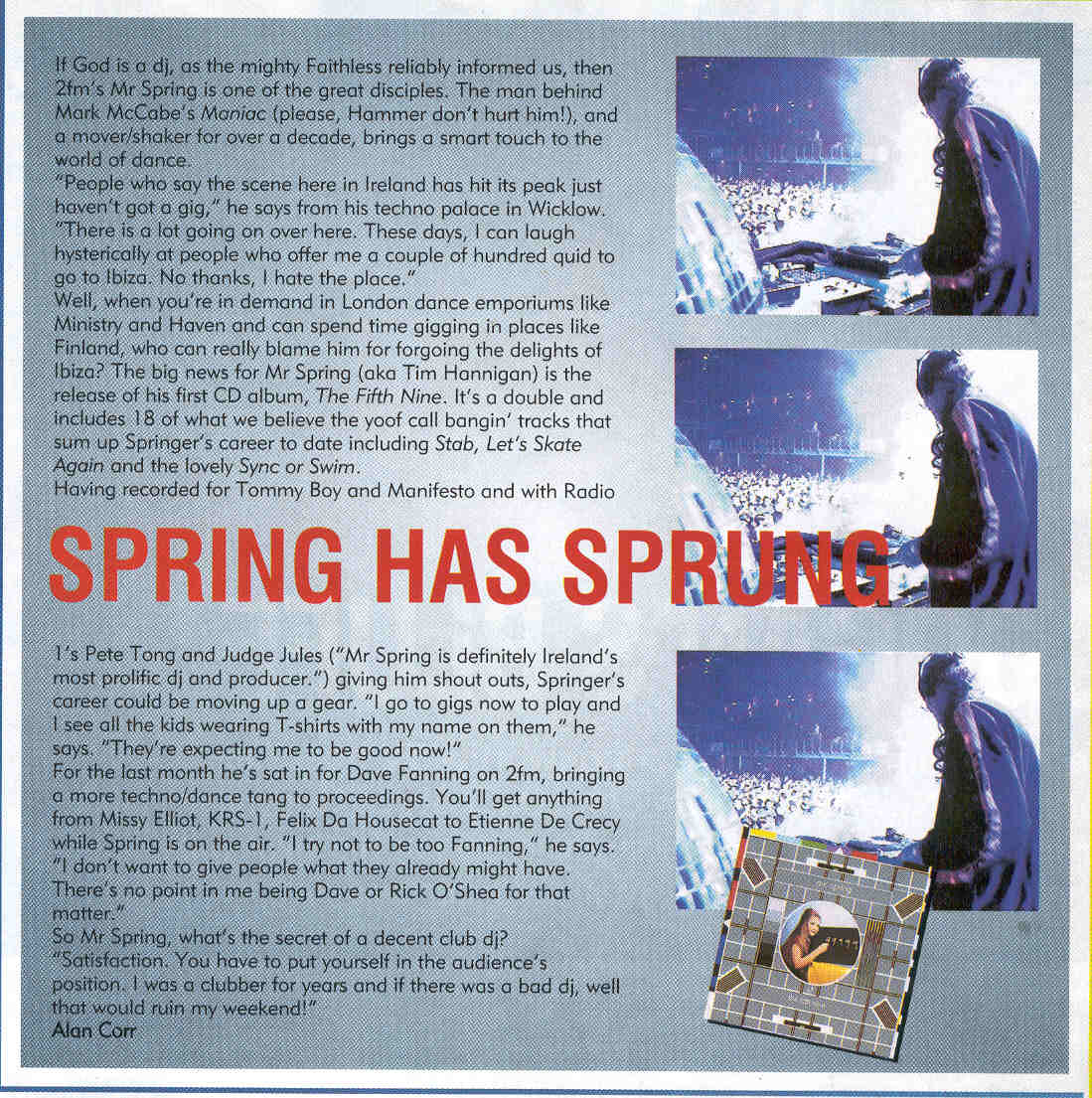 Corrections: Haven should be Heaven,I don`t ever remember doing anything for Tong,I actually -=detest=- ibiza.
UPDATE220801:Launch day (ireland) came and went without much pain.. some smaller more isol8ed shops got their copies later then major city stores and the posters were a bit thin on the ground - some shops reporting them bieng stolen almost immediatly upon bieng hung! EXCELLENT! I'm soooo proud of you! Jim Carroll review from Irish Times below: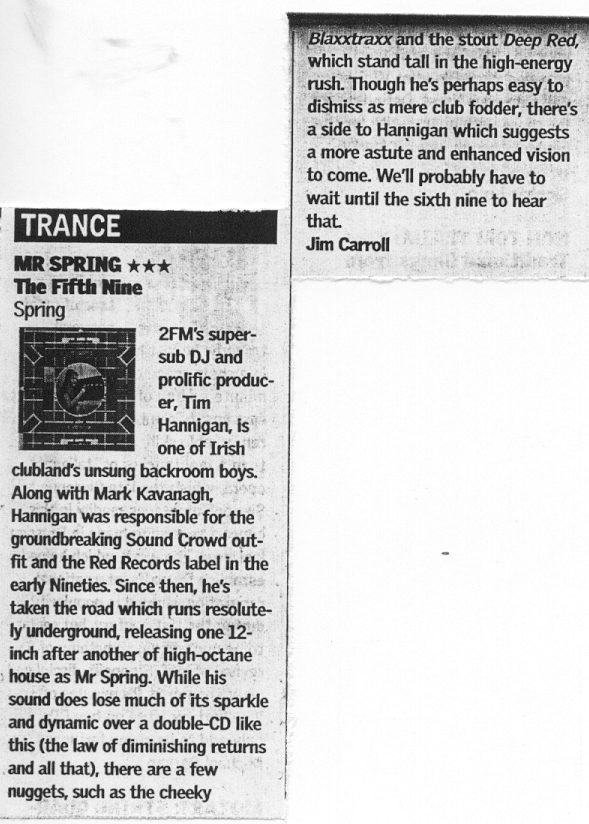 Ahhh!!! wernt HOTPRESS nice!!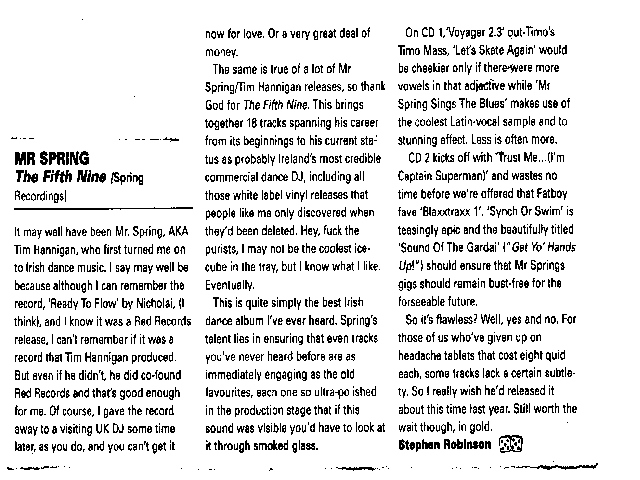 Review Of THE FIFTH NINE from UPFRONT march 2002